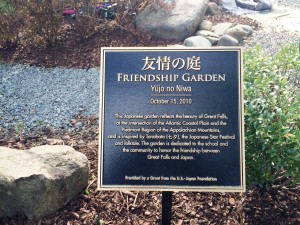 Great Falls Elementary School held a special tree planting ceremony in their Yujo no Niwa (Friendship Garden) on Thursday, April 30. Mrs. Akie Abe had requested the chance to plant a cherry blossom tree, called sakura, in the garden. Her husband, Prime Minister Shinzo Abe, had attended the opening ceremony for the garden in 2010. Unfortunately the tree ceremony could not take place when Mrs. Abe and First Lady Michelle Obama visited the school on April 28 and Mrs. Abe requested Mr. Yukio Tada participate in the tree planting as her representative.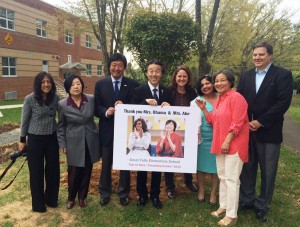 Current and former PTA members, Japanese teacher Mamiya Worland, Ken Kuribayashi and Yukio Tada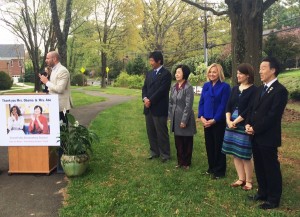 GFES Principal Lonnett spoke to the students about the tree planting and recognized the special guests in attendance. Mr. Lonnett acknowledged Mr. Tada's long-time support for the Japanese Immersion Program at the school and  his efforts to further U.S.-Japan ties. Mr. Tada gave an uplifting speech about the significance of cherry blossom trees to Mrs. Abe. "Every April, when the Sakura bloom, people across Japan hold special parties to celebrate their beauty and friendship with others. They sit beneath the trees, and enjoy their time with their family and friends. Cherry trees are also a symbol of friendship between Japan and the United States. One hundred years ago, Japan gave a gift of cherry trees to the United States, and they were planted around the Tidal Basin in Washington DC." "Today, I am pleased to help you plant this Cherry Tree in honor of the continued friendship between Japan and the United States, especially as demonstrated by the visit this week by Mrs. Abe and Mrs. Obama. Yūjo No Niwa means "Friendship Garden", and Sakura is indeed at Yujo No Ki, which means "Friendship Tree"." He asked the students "when you look at this cherry tree – when it is in bloom or not – please think of the friendship between Japan and the United States, between your school and your sister school in Japan and this special week when Mrs. Abe and Mrs. Obama came to visit."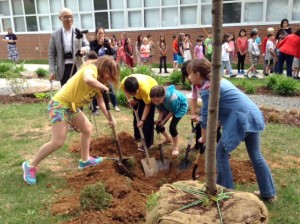 The GFES JIP students enjoyed taking turns digging the hole for the cherry blossom tree.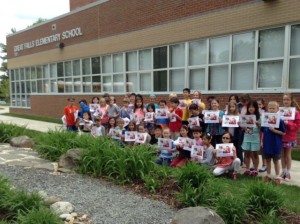 Students posed by the Friendship Garden with photos created by the PTA to commemorate the special visit by the two First Ladies earlier in the week.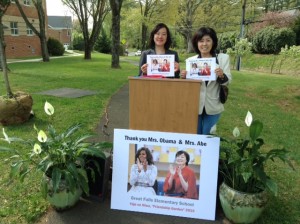 CEPEX Director Nicole Uehara and Japanese professor Sufumi So joined the tree planting ceremony.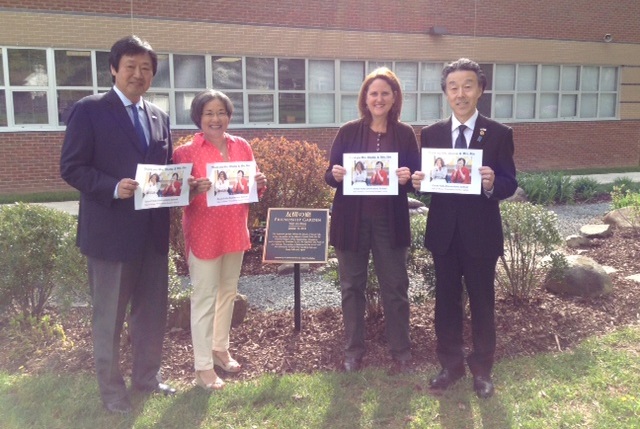 The Friendship Garden and newly planted cherry tree will require continued care and support over the years. The families involved in the Japanese Immersion Program at Great Falls Elementary School are an integral element for providing the care for the garden and supporting the U.S.-Japan people-to-people relationship.